Training is the key to educating your staff in organisational policy, procedure and best practice to reflect the values and expectations of your organisation.
On-going education and training ensures compliance and a clear understanding across your organisation. SINC Solutions is aware that good governance is forever validating and evolving. Hence, why we are committed to providing quality and interactive training to ensure staff are reminded of their responsibilities and how they are best placed to carry out their duties.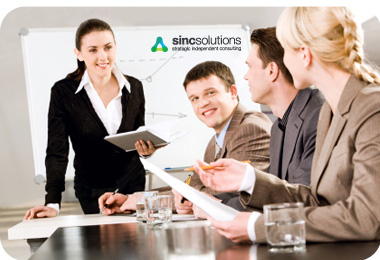 SINC Solutions can tailor a training program to suit your business and staffing needs. We have firsthand knowledge and are well placed to provide you with a training program to coincide with changing and implementing new procedures and policies at all levels of an organisation.
Our sessions have covered and had successful outcomes in a variety of areas including but not limited to:
What is good governance?
Management Development Programs
Developing Leaders Program
Roles & responsibilities of staff and Councillors
Code of conduct
Conflict of interests
Political donations
Code of meeting practice
Team building
Policy training such as Bullying and Harassment Prevention,
Recruitment and Selection, Think Again – Drug and Alcohol Awareness Program etc.
SINC Solutions is committed to excellence in training design and quality training delivery in a positive learning environment.
Councillor Induction and Professional Development Program
Our training program can be incorporated as a component of your Councillor Development Strategy. Our training program is aligned to the DLG's Councillor Induction and Professional Development Guide and will equip your Councillors with the information and resources to undertaken their roles and responsibilities effectively. We can provide information sessions to refresh those "HOT TOPICS" such as:


Code of Meeting Practice
Code of Conduct obligations
Appropriate Councillor Interactions with Staff
Conflict of Interests – Should you meet that developer on site?
Political donation requirements
Gifts and Benefits.
Fitness for Work
We are not talking about return to work programs here. We recognise that is a specialised OH&S process. Our 'Fitness for Work' program is part of a wider focus to provide our clients with a strategy towards promoting a safe work environment for all employees and contractors.
The Fitness for Work program encompasses managing elements of personal well-being that can affect work performance and safety and is concerned with both the functional behaviour of employees as well as minimising the potential risks for the organisation.
SINC Solutions can offer an independent analysis of your individual business units to accurately assess the departmental challenges that staff are facing on a daily basis. Councils are service providers but there are many factors impacting on staff ability to provide a high level of service to their clients such as:
Cultural
Environmental.
Dealing with difficult customers
Staff under the influence of drugs and/or alcohol in the workplace
"Think Again" Drug and Alcohol Training Program
Fact or Fiction?
Most drug users are employed
20-25% of all work accidents involve alcohol
15-30% of all work fatalities are related to alcohol and other drugs
It's all FACT! Are you adequately protecting your organisation and looking after your employees?